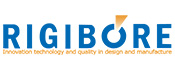 Rigibore produces special tooling, specifically boring bars, for the automotive, aerospace, marine, agricultural and heavy plant industries.
We pride ourselves on our dedicated support, knowledge, and decades of experience in this engineering sector.
Our support and service agreement has allowed us to become a supplier to some big names like Caterpillar and BAE Systems and winners of a prestigious Bronze chairman's award for the use of our ActiveEdge tooling in production of the Joint Strike Fighter. We also work closely with a number of leading machine tool builders.